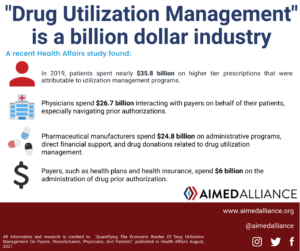 A recent study in Health Affairs found that payers, pharmaceutical manufactures, health care providers, and patients incur approximately $93.3 billion in annual costs on implementing, contesting, and navigating drug utilization management programs. Drug utilization management is a collection of cost reduction techniques and programs used by health insurers. They often involve restricting access to medications (e.g., prior authorization and step therapy) or shifting cost-sharing burdens to patients (e.g., nonmedical switching and copay accumulator programs). As a result, these policies can limit patient access to medically necessary treatments. 
The study found that, in 2019:  
P

atients 

spent nearly

 $35.8 billion

on drug cost-sharing even after taking advantage of copay assistance programs; 

 

Health care providers 

spent nearly

 $26.7

 billion on interactions with payers on behalf of their patients; 

 

Pharmaceutical manufacturers 

spent 

$24.8 billion

 on administrative programs, direct financial support, and drug donations related to drug utilization management; and 

 

Payers 

spent 

$6 billion

 on the administration of drug prior authorization programs. 

 
Aimed Alliance is committed to working with partners to ensure that prescriptions remain affordable and accessible to patients. To access the full article, click here.