– New Infographic; Paper Published in the Loyola University Chicago Law Journal
Aimed Alliance
(202) 559-0380
WASHINGTON, DC (October 2, 2017) – As The New York Times reports that health insurers contribute to the nation's drug overdose epidemic by denying coverage of less-risky opioids and addiction treatments, a national alliance is encouraging trial attorneys to help consumers challenge illegal health insurance practices.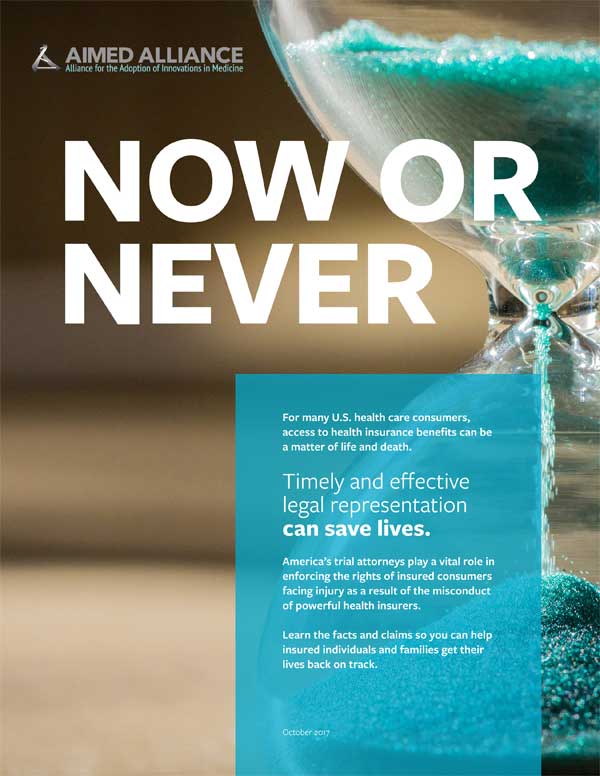 The not-for-profit Alliance for the Adoption of Innovations in Medicine (Aimed Alliance) today released an infographic illustrating possible legal arguments trial lawyers can utilize in enforcing consumers' rights. It is based on a scholarly article entitled, "Now or Never: The Urgent Need for Action Against Unfair Coverage Denials for Quality Health Care," published in the Summer 2017 edition of the Loyola University Chicago Law Journal.
"Americans expect their health insurance to be there for them when they need care," said Aimed Alliance Policy Director Nellie Wild. "Individuals who are unfairly denied coverage may be able to take legal recourse. That's why we are calling on trial attorneys to get involved."
The infographic and article describe insurance practices, such as step therapy protocols that require patients to fail on non-prescribed drugs before patients can access the medication prescribed to them, and potential causes of action attorneys can bring against insurers who employ them. Other insurer practices include:
Prior authorization requirements that may be inconsistent with medical standards of care and can significantly delay treatment for patients;
Adverse tiering that requires the highest level of out-of-pocket costs for most, if not all, medications that treat a particular condition;
Plans that lack a sufficient number of in-network health care providers or inaccurately report that a practitioner is in-network; and
Insurer-directed clinical pathway programs that give practitioners financial incentives or disincentives to prescribe certain treatments, creating an unethical conflict of interest.
"The Now or Never infographic is designed to raise awareness among trial attorneys of the health insurance industry's profit-maximizing practices, and to provide trial attorneys with information that may help insured individuals and their families get their lives back on track," Ms. Wild said. "We hope that our infographic will encourage trial attorneys to act on behalf of frustrated patients facing access issues."
The infographic is the latest effort from Aimed Alliance's Know Your Health Insurance Rights Campaign. The campaign encourages consumers to appeal coverage denials by providing them state-by-state information on filing appeals and complaints. When appeals and complaints are unsuccessful, a lawsuit may be an appropriate next step.
"Legal action can help individuals get the treatments they need and bring about meaningful policy change," Ms. Wild said.
To learn more about the Know Your Health Insurance Rights Campaign, watch the video here or visit www.CoverageRights.org.
#####
About Aimed Alliance
The Alliance for Adoption of Innovations in Medicine (Aimed Alliance) is a tax-exempt, not-for-profit organization that seeks to improve access to quality health care. Governed by an independent board of directors, Aimed Alliance's work is guided by the organization's principles and is not influenced by the interests of its funders. Visit aimedalliance.org and follow @AimedAlliance on Twitter.
Last Updated on May 13, 2020 by Aimed Alliance