The History of REMS
The creation of new drug safety protections, called Risk Evaluation and Mitigation Strategies (REMS), marked a significant moment for patient safety. To understand how REMS safeguards are making a difference to patients, health providers and the health care system, below is a brief history of REMS and how this program has evolved over time.
The Call to Action and Congress' Response
After several widely prescribed medications were removed from the market in the early 2000s due to safety concerns, pressure to make fundamental changes to the nation's drug safety system began to escalate. The problem was that even though the Food and Drug Administration (FDA) could require drug manufacturers to mitigate the risks of their medicines, the agency lacked the power to require rigorous safety measures if a safety concern was raised after the drug was approved.
The limitations of FDA's authority became national news in 2004 when the popular pain medicine, rofecoxib (Vioxx), was pulled from the market after scientific reports linked the drug to more than 60,000 heart attack and stroke-related deaths between 1999 and 2004.  It became apparent that while FDA could require post-approval studies, surveillance programs and other "post-marketing commitments" from manufacturers before the drug was approved, the agency needed to be able to take enforceable action if a safety concern presented itself after the product was already in the market.
To address these limitations, Congress passed the Food and Drug Administration Amendments Act (FDAAA) of 2007. This landmark legislation gave FDA broad powers to regulate drug safety, including authority to require and enforce Risk Evaluation and Mitigation Strategies (REMS) programs to ensure that the benefits of a drug outweighs it's risks.
Specifically, FDAAA gave FDA the authority to:
Require REMS safeguards as a condition of approving a new drug or biologic
Add REMS controls after the medicine is on the market based on new safety information, such as a previously unrecognized or unlabeled risk or new findings concerning a known serious adverse drug reaction
Specify what components must be included in a REMS program – from safety communications for health professionals and patients to strict controls on how the medicine is prescribed and made available to patients
Impose large fines on the manufacturer if the company does not comply with a requirement of the REMS program or remove the drug from the market
Although REMS, by their nature, restrict access to medicines with known serious risks, Congress specifically declared that REMS should not unduly burden or prevent patient access, particularly in the case of life-threatening diseases or conditions. Accordingly, the law outlined the factors FDA should consider when deciding to require REMS, including the size of the patient population, the benefit of the drug, the length of treatment, the seriousness of adverse events, and whether the drug is a new treatment.
Moving to a Streamlined REMS Program with a More Concentrated Focus
Since 2008, the REMS program has allowed FDA to approve additional options for birth control and new treatments for such diseases as multiple myeloma, leukemia, numerous blood diseases, HIV, mental health conditions, obesity, psoriasis and seizures.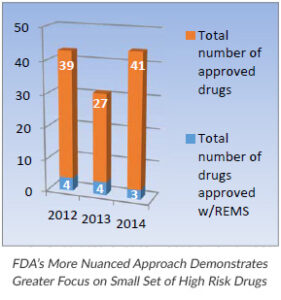 At the same time, FDA's decision about when to require REMS has changed with experience. In 2011, FDA put in place a new initiative called the "REMS Integration Initiative" to streamline the use of REMS programs in order to focus on the most potentially dangerous drugs.  As a result, FDA has released over 200 REMS since 2009.
What this means is that today, REMS are rarely required. Based on August 2019 statistics, there are only 61 approved REMS programs for all the FDA-approved medications now on the market. Of these approved REMS programs:
51 require "Elements to Assure Safe Use" (ETASU), the most restrictive type of REMS
13 of the 51 REMS with ETASU are shared systems where branded and generic drugs use the same REMS procedures to manage the risks of potentially dangerous drugs
Looking Ahead
At a time when medicines are becoming more targeted and complex, ensuring patients' safe use of medications with known dangerous risks is critical for public health and safety. Therefore, REMS programs will continue to be an important tool to advance patient safety, protect public health, and provide access to innovative medicines.